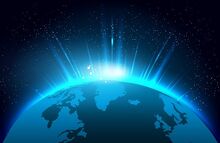 Hello and welcome to the TRADE COMPUTER EXTENSION MK.II for Elite: Dangerous®.
I begun to create this extension in the time of the Premium Beta phase of Elite: Dangerous®, as I saw, there was something missing in the game, that was needed to me.
So I decided to fill the gap and created at the beginning an Excel sheet, where I could enter some data of space stations and commodity prices. But the more data I got, the more important was it to make the input of data as easy as possible. Later on I found the repeatedly ALT-TAB in and out of the game more immersive breaking than the data input itself.
With the possibility to set Elite: Dangerous® into the borderless display mode, I was able to display my created user forms into the front of the game, so they displaying as a piece of it. That moved me to the point to create a full interface, with the visual design of Elite: Dangerous®, to be a part of the cockpit.
Now, more than one year later I made, with important help of the community, an extension, that includes many areas of the game, not only trading. But see yourself, what you want to use from this extension for your own game. I think, you will find more and more useful.
Good luck Commander, start to discover the unknown and have fun in doing so.
Eventure