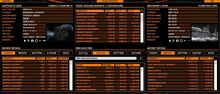 This panel holds many data about the trade market you are present and the market, selected as your destination.
Here you will find all required information's to make a good trade. You can sort the displayed data with a click on the colored header of a column.
Below the market data, you can view the EXPORTS and IMPORTS of goods, OUTFITTING available and the SHIPYARD of the market. Finally you can enter or view NOTES for the markets
The IMPORT and EXPORT area point you, which commodity can be sold best of all or be bought. You can click on a listed commodity to make a quick search for stations in trade range, that buying or selling the item.
The TRADE ADVISOR displays all commodities, which can be traded between the markets.
Finally you can search after trade stations around you, that buying or selling a specific commodity, offering outfitting or space ships. Click the box to open a dropdown list.
With a click on the triangle, the search is started. The list displays all found markets within your selected trade range.