You can choose between two styles of interfaces, text or icon-based, at the Options panel.
Text-based Interface
Edit
The interface contains some buttons and two displays, showing information's about your actual position and the selected, manually or auto-selected, destination.
The buttons from left to right:
CONTROL – Here you can select to open the OPTIONS panel and the PANEL control button. A QUIT button ends this extension and brings you back to your desktop.
DATABASE – Here you can select what database you want to access, FACTIONS, MARKETS , LOCATIONS or WARES. Each opens a database panel to add, modify, or delete an entry.
NAVIGATION – With a click on this button, you open the NAVIGATION panel to get an overview about your surroundings, what star systems, markets and locations are present.
TRADE OVERVIEW – With a click on this button, you open the TRADE OVERVIEW panel, which holds all known data of your current location, when it is a trade station and your destination.
CONNECT – With this button you can use the EDMC app to access personal, commodity and ship data about the market, you are actually. It is shown only at registered markets.
PERSONAL – Here you can get an overview about your commander, your actual ship and ships, which are stored at your hangar at the stations. Notes can be added here too.
COMMODITY – With a click on this button, you can open the COMMODITY panel by selecting VIEW or SCAN. Here you can view, enter or scan all commodities available at your current space station. It also displays price and stock changes of each commodity.
ROUTES – Here you can access the ROUTE FINDER and ROUTE PLANNER. With them you can find or build trade routes from your stored database.
Icon-based Interface
Edit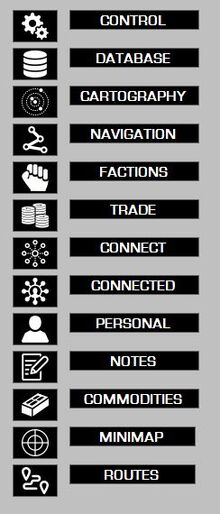 This new streamlined interface contains icons instead of text buttons to access panels or sub-buttons of TCE.
The icons replacing the text buttons as shown at the picture on the right.
This interface showing more possible actions than the text-based interface. Additionally you will be able to exchange the display order to adapte them into your play-style.
Select CONTROL and PANEL to be able to edit the order of appearance. Every changable icon has a small select button on the top-right edge. Click it to select a different action at the position.
The icon will change thereafter the position with the former icon. Ony the two icons in the middle between the Position and Destination displays are not changable. They remain always in their default position.